Sustainability & Durable
REHAU uPVC Windows and Doors are made of weather-proof material RAU-PVC 1476. They need no special handling and have a long life. The formulation RAU-PVC 1476 is specially developed to protect the profiles against hard UV-radiation found in many parts of Australia. This means special protection against discolouring, distortion and shrinkage of the profiles due to extreme conditions in hot environments and high UV climates
DURABILITY
Durable windows for today's living.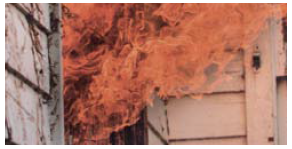 Self Extinguishing
REHAU uPVC is classified as a high-impact resistant material. It is notably difficult to ignite and will self-extinguish when the source of heat is removed.
BAL Rating (Bushfire Attack Level) : Our windows and doors are compliant to BAL Rating 29.

No Rotting, No Corrosion, No Painting
Unlike other materials, REHAU uPVC profiles are rot-proof and resistant to atmospheric pollution, including a range of acids and alkalis. This also means they will never rot in the manner of wooden frames over time.

High Wind Load Performance
The wind load capacities of REHAU Window Systems have been verified at a range of 3500 - 6300 Pa (tested in accordance with GB/T7106-2002 and at estimated windspeeds of 270 - 380 km/h). In other words, REHAU windows are built to withstand the gustiest wind conditions, which makes them an ideal choice in highrises and coastal areas.
REHAU windows are resilient enough to shield you from even typhoons, ensuring safety and security indoors.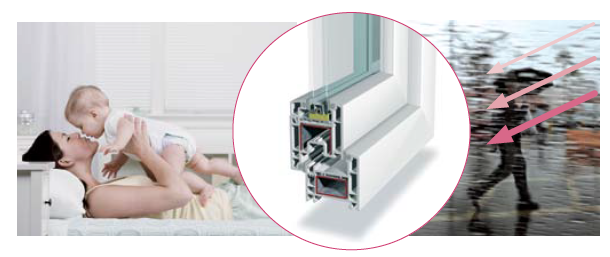 MAINTENANCE
Solves the common problems of a high-rise urban home
These days, more people live in high-rise apartments that overlook vehicular traffic with all its noise and air pollution.
This makes housekeeping even more of a chore. REHAU Window Systems have been thoughtfully designed to keep out what doesn't belong in a clean and restful environment.

Fuss-Free Maintenance
It takes only half as much time to clean tilt-and turn windows, as their openings allow you to swipe both sides at the same time. Being made of exceptionally durable uPVC, REHAU windows are extremely resistant to pollution, diluted acids and alkalis. No special maintenance regime beyond the use of appropriate standard household cleaners is required. All in all, a REHAU Window System is virtually guaranteed to help you save plenty of time and money over the long duration of its use.

Dust Proofing
The sealing in REHAU Window Systems is calibrated to achieve excellent air tightness of less than 0.1 m3 /hr/m2 @ 10 Pa (tested in accordance with GB/T7107-2002). This effectively stops dust drifting in from the outside, which drastically reduces the time you'll need to spend cleaning your home.

Water Tightness
REHAU windows incorporate an 8mm overlap between frame and sash, as well as dual compression gaskets, to prevent both dust penetration and water infiltration. They boast a proven water tightness of at least 2 litres/ min/m2 @ 700 Pa (tested in accordance with GB/ T7108-2002). So your home stays absolutely dry however heavily it might be raining outside.